Story & photos by Mary Andrews

Farm Aid held its 29th fund raising concert in Raleigh, NC on September 13, 2014 with a convergence of the most eclectic and talented group of bands in recent years. All of the entertainers have donated their services to Farm Aid. The show presented a taste of New Orleans from the Preservation Hall Jazz Band to some hard rock from Jack White. In between the slices of bread, there was lots of country music, more rock, blues and an acoustic Neil Young.

Willie Nelson led the beginning of the festival singing the "Lord's Prayer." He, then, introduced his granddaughter and her band, The Raelyn Nelson Band. Their heavily tinged 15 minute country set led into Jesse Lenat's rock 'n roots short set. "Brooklynite", Lenat, has played Farm Aid previously in 2009 and delivered a rousing short set this year. The set changes were done in a minimum of time and Micah Nelson's band, Insects and Robots kept the pace going with their "psychedelic orchestra." Needless to say it is difficult to categorize their rock music.

Todd Snider kept things going singing and playing acoustic guitar. He is a Nashville troubadour with a knack for writing some of the most original and humorous, yet real lyrics around today. Todd Snider paused between songs to give the audience a tongue-in-cheek warning: "I'll be sharing opinions," he deadpanned,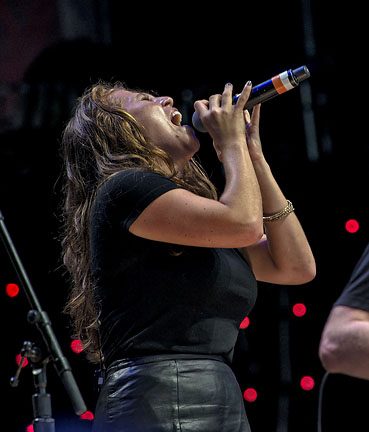 "not because they're right or make sense, but because the words rhyme.

Country music royalty, Carlene Carter took the stage next. She is third generation Carter family royalty. Her grandmother was Maybelle Carter and her mother was June Carter Cash. She is a pro from the start speaking to the audience like they were in her living room.

More country was provided by Farm Aid favorite, Jamey Johnson and his band. His musicians are some of the best in the business. He played crowd favorites, "In Color" and "Can't Cash My Check." This is the fifth year Jamey has played Farm Aid. Lily Meola joined Jamey for a duet.

Local six-piece band from Durham, Delta Rae, spiced it up with rock music. Their debut album, "Carry the Fire," has had many accolades and they have appeared on the Tonight Show on two occasions. Their set WAS on fire for Farm Aid.

Lukas Nelson and his band, Promise of the Real, kept the fire going in fine style. Lukas has inherited his father's ability to charm and mesmerize the audience within his own right. Lukas' versatility ranges from country, blues, rock and everything in between. His guitar playing was impeccable. He dazzled the crowd with three jumps! Later in the show he got to play with one of hid idols, Neil Young. Preservation Hall Jazz Band changed the pace with their high-energy traditional jazz. The band was in fine form as usual. They appeared in the finale with Willie as well.

By five in the evening, Gary Clark, Jr. let his blues roots loose on his spectacular guitar set. Mr. Clark is from Austin and has managed to make a name for himself as a master guitarist in the vein of Stevie Ray Vaughn, Jimi Hendrix, and other legends. Of course, if you ask, his response would be that he does not want to be pigeon-holed into a particular genre. Regardless, Gary is slowly becoming more of a showman in his live sets. At this point in the festival the audience has become anxious for the next performer, Jack White.

Alas, without further ado, the lights go blue and the background screen looks like blue television noise. With a bang of the drums, Jack starts his set and the crowd goes nuts! At first, it is difficult to discern if this is Jack White leading the band. Jack has traded his long locks in for a semi-mohawk hairdo, long sideburns, and a long flowing tuft of hair on top. There was none of the black, Gothic style of clothing. He was almost dressed like a member of a barbershop quartet. That is the only thing though that came across like a barbershop quartet. It was rock 'n roll except for one song that was in a roots vein utilizing a fiddle. Jack can do any kind of music, but this college town crowd wanted rock and Jack delivered! You may notice a general lack of photos in the slide show. This is because management selected only a few photographers to be allowed to shoot. Moi was not one of them.

The next sets were from the "board" members. Dave Matthews and Tim Reynolds started the evening sets. The set was classic Dave Matthews. Tim Reynolds' brilliant guitar playing filled the amphitheater with sounds like a large band. This was a typical Dave Matthews Farm Aid show. It maybe time for a mix-up.

John Mellencamp exploded on stage with his full band and his usual aplomb. He is still one of the most dynamic performers around. He did a short acoustic piece and included "Jack and Diane." This song has been excluded during recent years and rumor was that "he didn't like it anymore." The audience attempted to sing parts of the song, but they were chastised for not singing it right. "You came in too soon." It was all in fun.

Neil Young always does something different at Farm Aid. This time was an acoustic set done with very garish lighting. Halloween is around the corner. He brought his organ and his wooden Indian. His seven song set included Mickey Raphael on harmonica on one song. Lukas and Michah Nelson accompanied Neil on guitar during last song. Neil had plenty to say about corporate farming between the songs as he is very passionate about the Farm Aid cause.

Willie Nelson's set was the final set of the night. He and his family performed a selection of hits before he was joined on stage by Preservation Hall Jazz Band, Jamey Johnson, Todd Snider and Gary Clark, Jr. None of the other board members joined in the finale this year. The set had a very revivalist feeling with "Will The Circle Be Unbroken" and other hymns. The last song, "Roll Me Up And Smoke Me When I Die" broke the spell at the end. It was a great day of music presented well that included something for everyone.

For more information on Farm Aid, visit www.farmaid.org.