Story and Photos by Andy Argyrakis and Mike Kane
Billy Joel Photo - file

If the aftermath of Hurricane Katrina can't shut down the durable New Orleans Jazz & Heritage Festival, than a torrential downpour certainly wouldn't cause the concerts to cease. Just ask first weekend headliner Billy Joel and his prominent bill partner Dr. John, the latter of whom faced buckets of wetness during a solo set on Saturday and again during a collaborative jam on Sunday. As for the perennial "Piano Man," he basically ignored the insanity of fans fleeing for cover and umbrellas blowing inside out, instead treating the brave to a lightening round (literally) of greatest hits streaked with a Crescent City flair.

Outside of staples like the militant "Movin' Out (Anthony's Song)," the enduring "Allentown" and the five minute summary of American history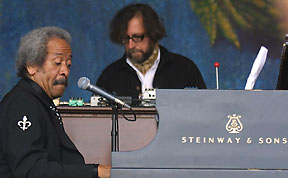 "We Didn't Start the Fire," Joel carefully annunciated every word of "Scenes From An Italian Restaurant" (especially the infamous line: "Drop a dime in the box, play the song about New Orleans"). He also unfolded similar local spirit throughout the gospel-tinged "River of Dreams," dropping in the most familiar instrumental bits of "When the Saints Go Marchin' In."

Even with all his shout outs to the Big Easy, Joel couldn't match the authenticity of his opener Dr. John, who endured pelting precipitation in that solo set, plus the same conditions throughout Sunday's collaborative session with the fittingly named Voice of the Wetlands All-Stars. Outside of his piano pounding, the expansive collective also featured Tab Benoit, Cyril Neville, Big Chief Monk Boudreaux, George Porter, Jr. (of The Meters fame), Anders Osborne, Johnny Sansone, Johnny Vidocovich and Waylon Thibodeaux. Even with soggy hair and having to constantly push their melange of instruments further back towards the stage's banner, the diverse players had no trouble cooking up a smoldering gumbo of jazz, blues, zydeco, rock n' roll and just about everything in between.

Additional area flavors in the soulful vein came from Davell Crawford's New Orleans R&B Orchestra, who helped usher in some sunshine with its inspirational grooves. But the booming troupe was a mere precursor to Elvis Costello, who might not have fit similar protocol on paper- or with an opening rendition of his signature Nick Lowe cover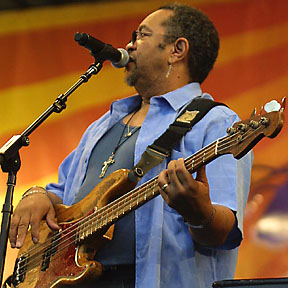 "(What's So Funny 'Bout) Peace, Love, and Understanding"- but he quickly blended right into the surroundings thanks to an introduction of several regional brass backers and the iconic ivory tickler Allen Toussaint. The pair intertwined R&B and pub rock throughout several tracks off their recent CD partnership The River In Reverse, providing yet another dose of encouragement to storm survivors, while fitting together like hand in glove (despite remarkably varied backgrounds).

Though primary known in country contexts, Tim McGraw is indeed a Louisiana native, who proudly bragged about his heritage and used tracks like "Live Like You Were Dying" to build a bridge of further healing to the continuously recovering community. He may be merely a singer who doesn't put pen to paper, but the cowboy hat clad entertainer knows how to pick and interpret insanely catchy working class anthems (think Bruce Springsteen with a hearty drawl and a twangy band known as The Dancehall Doctors). A handful of ballads didn't translate to the massive outdoor confines, but barnburners like "Indian Outlaw" and "Between the River and Me" kicked up some serious southern dust.

Yet Al Green owned the final day of first weekend, both as a preacher and soul purveyor, who started on the horn-infused flourishes of "I Can't Stop" and then took the throngs to church via a gut-wrenching version of "Amazing Grace." But this was one Sunday where the Memphis minister wasn't in the pulpit, so his secular standards were also fair game with "Tired of Being Alone" and "I'm Still In Love With You" serving as his set's ultimate apexes. Even at 62, Green remains the consummate performer, serenading the ladies with a rose one second and passionately sharing the good news the next, which no matter one's belief system, rapturously resonated throughout the congregation.