Story and Photos by Phil Bonyata

Velvet Revolver was born from the ashes of Stone Temple Pilots (lead singer Scott Weiland) and Guns N' Roses (lead guitarist Slash, bassist Duff McKagan and drummer Matt Sorum. Apparently taking a page from the former success of Audioslave - which consisted of former lead singer Chris Cornell and Rage Against the Machine members, minus lead singer Zack de la Rocha.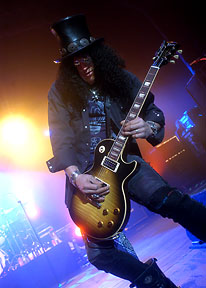 The mixing of of two former supergroups into a new one seems to be a wise financial choice, but does the music compare to their former glories? As with Audioslave (all the Rage members quit to reunite with de la Rocha and reform the mighty titans - Rage Against the Machine) are these modern amalgamations pre-programmed to burn-out rather quickly or can they keep the match away from the fuse?

Usually, in a case like this the fans seem to be more interested in the music from the members old day jobs than what they are currently spinning. STP's "Vaseline" was greeted with a commanding applause as was GNR's "Mr. Brownstone" and "Patience." Scott Weiland still has the charm and dangerous beauty of a menacing serpent. Strutting so effortlessly between Slash's blistering, burned-out chords and McKagan's jagged basslines, Weiland looked quite stylish in tight-fitting black leather jacket and jeans, printed scarf, orange vest and a robust beard and sunglasses. The orange vest was probably inspired by Wisconsin's love of hunting then again he did the "great road mistake" of addressing the crowd as "Chicago" to the loud dismay of the locals in attendance.

One of the foundations of GNR's music was the disorder and chaos that was so effortlessly blended in every song. On stage Slash and company were still able to keep things fresh and deliciously loose on Revolver numbers "Let It Roll" and "Fall to Pieces." The band's collective rock n' roll pedigree was evident on "She's Mine" - with a muscled up chord structure and feverish beats by Sorum and McKagan that drove Weiland into an other worldly stage persona.

The band played a rousing retake on Pink Floyd's "Wish You Were Here" giving the classic song a much needed shot of ragged edginess. Closing the nearly two hour set with "Slither" from their 2004 debut album Contraband, the boys convincingly proved that this rock n' roll union surely has a voice that's all it's own.