Story & photos by Jennifer Bronenkant

In the midst of a nationwide farm crisis, Willie Nelson, Neil Young, and John Mellencamp gathered about 50 artists to perform the first Farm Aid in Champaign, IL to a crowd of 78,000 fans. That first Farm Aid raised five million dollars to directly assist farmers suffering during the farm crisis and to raise awareness of the plight of America's family farmers.

The three original founders have served as board members since the beginning and were joined in 2001 by Dave Matthews. These members along with unseen board members and staff have worked tirelessly over the years ensuring a continuing effort to bolster the family farmer and ensure good safe food for the American public. In the 30 years since the first concert nearly 500 artists have donated their time, talent and expenses to perform at Farm Aid concerts. The movement and mission has changed with the emerging needs of the farmer. The rise of factory farms and the public policies that support corporate interests have severely threatened the family farms. The organization has morphed to serve the growing needs of today's family farmers by concentrating efforts on supporting the Good Food Movement, promoting farm policies and grassroots campaigns along with directly supporting farmers in transition to more sustainable growing methods along with natural disaster and emergency response assistance.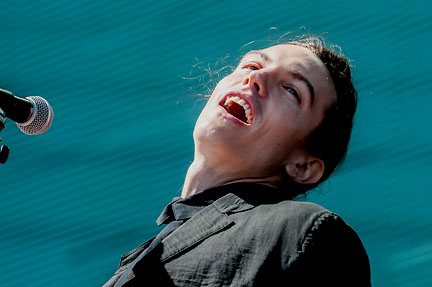 Kicking off its 30th year, Farm Aid was honored in February by the GRAMMY Foundation¨ for its legacy of harnessing the power of music for social change.

Farm Aid held it's 30th anniversary concert at FirstMerit Bank Pavilion at Northerly Island in Chicago on a beautiful Summer-like September day.

The venue is an outside amphitheater on an island in Lake Michigan with breathtaking views of downtown Chicago. This urban oasis provided plenty of room for the tasty family-farm identified local and organic food including jalepeno corn dogs, grilled pork chop sandwiches, baby back ribs, vegetarian tacos, sweet desserts and fun drinks.

HOMEGROWN Village educates and entertains festival goers with ongoing skills demonstrations, hands-on activities and discussions of issues by panels of farmers advocates. Several of the musicians added their star power to draw crowds to the panel discussions including Jamey Johnson discussing how to bring in the next generation of farmers, Lukas and Micah Nelson discussing Chicago's urban gardening community, and Jack Johnson discussing farm to school programs.

Of course the star of the festival is the music and this year's lineup was stellar. The high energy mix included a wide variety of styles from gospel, rock, alt, folk, and of course country.

The day started following the long tradition of Willie Nelson opening with a prayer followed by a gospel set by the Blackwood Quartet.

The crowd warm up started with short sets by lesser known acts who although they may not be household names yet come from solid musical heritage including model and singer Ian Mellencamp (nephew of board member John Mellencamp) and Americana singer Holly Williams (daughter of Hank Jr. and grand daughter of legendary Hank Sr.). Two of Willie Nelsons sons rocked out early in the day with their bands: Micah Nelson with his alternative rock band Insects vs Robots and blues rocker Lukas Nelson and The Promise Of The Real.

By mid afternoon the crowd had filled in substantially and the sets got longer and featured more nationally known names.

The infectious hoe down music of Old Crow Medicine Show really got the crowd moving by performing favorites of their own like "Alabama High-Test" along with a cover of "City of New Orleans." They featured special guests Willie Nelson's harmonica player Mickey Rafael and multi-intrumental musician David Amram who has performed at all of the Farm Aid concerts.

Farm Aid regular and modern Outlaw Jamey Johnson opened with a defiant cover of Willie Nelson's "Write Your Own Songs" followed by several of his own hits and closing with Woody Guthrie's "This Land Is Your Land." He brought Hawaiian singer Lily Meola on for a pretty duet of one of her original songs "We Go Good In Bad Weather."

Kasey Musgraves featured the best costuming of the day wearing a retro cowgirl ruffled dress and western boots while her band was dressed in pink Nudie style suits. Her contemporary Country music includes enough heart and soul win acceptance by traditionalists along with popularity with new Country fans. She ended her set with a sassy cover of Nancy Sinatra's "These Boots Are Made For Walking."

Jack Johnson brought in his mellow island vibe with a set of his hits. The highlight was the last song which he had just written and had to read off of a sheet of paper. Called "Willie Got Me Stoned And Stole All My Money," it was as humorous as the title implies.

Chicago hometown star Mavis Staples brought her unique soulful music on next. Her joyful performance had the whole audience up and dancing especially with the Staple Singers' hit "I'll Take You there."

Kicking the energy level up into a completely new sphere, Imagine Dragon's, Dan Reynolds hit the stage with so much excitement the stage couldn't contain him and he spent most of the first song "It's Time" bouncing around in the front of the pit and into the audience. It is easy to see why this band has been so hot this year.

The rest of the night belonged to the board members beginning with Dave Matthews who brought along guitarist extraordinaire Tim Reynolds for a mix of DMB favorites including "What Would You Say" from the early days to a more recent "Corn Bread."

John Mellencamp began his set with a newer song "Lawless Times" but mostly played audience favorites from the 1980's like "Authority Song" and "Pink Houses." A master showman, Mellencamp had people of all ages up on their feet dancing and singing along.

Neil Young has been on tour this summer backed by Willie's sons Micah and Lukas and The Promise Of The Real in support of his latest protest album The Monsanto Years. The combination of age and experience with youth and enthusiasm couldn't be better. Young seems to be revitalized and having more fun than ever and the members of the band have become even better musicians after spending time with the master. The set started with new songs from the current album but went on to include older favorites including the rarely played "Alabama." It seems that year after year, the highlight of the festival is usually Neil Young.

Willie Nelson along with his band and family members ended the show with a traditional Nelson set opening with "Whiskey River" and ending with gospel music "I Saw The Light." Many of the performers of the day joined in on stage for the finale. Another successful and memorable Farm Aid has just joined it's predecessors in the history books.

For more information on Farm Aid, visit www.farmaid.org.