Story and photos by Tony Bonyata, Andy Argyrakis,
Phil Bonyata & Billy Sparks

With arguably the strongest line-up of headliners since Jane's Addiction frontman Perry Farrell began his traveling alternative music fest Lollapalooza back in '91, the success of this annual festival (now in its permanent home through 2011 in Chicago's beautiful Grant Park) is stronger than ever. With headliners such as Radiohead, Rage Against The Machine and Chicago's own Wilco topping the bills for Friday and Saturday those two days have already sold-out prior to their respective dates - with Sunday's closing acts Nine Inch Nails and Kanye West also coming extremely close to selling out.

While the original successful formula for Lollapalooza lost its vision and, ultimately, its profit margin, the then still-traveling festival was cancelled, before Farrell again gave it another shot in 2003 and 2004 only to again cancel due to lack of interest and ticket sales. It wasn't until Farrell partnered with promoters C3 Presents (then Capital Sports & Entertainment)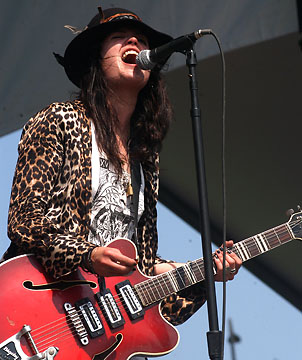 and Charles Attal Presents that they decided to use Chicago as the festival's only annual location in 2005. Since then the fest has regained the creative momentum and success of its glory years when alt-rock and grunge were just taking their first steps in the early '90s.

Despite the sweltering heat of the first day of this year's festival, the spirits for the 75,000 music fans that put this spacious lakefront park in a chokehold were smiling, dancing and quite obviously having the sweatiest time of their lives. This was not only due to the spectacular view of Chicago's massive cityscape to the west and the occasional and welcome breeze that would waft in from Lake Michigan, just a stone's throw to the east, but, more importantly, the vast array of great music acts peppered throughout the multiple stages that dotted the park.

American post-punk duo The Kills, featuring Alison Mosshart on vocals and Jamie Hince on guitar & drum sequencer, ran through a blistering set of minimalist primordial punk filled with snarling guitars and ballsy bravado from Mosshart, who sexually prowled and slinked her way across the stage in a leopard print blouse and tight black slacks. NYC gypsy rockers Gogol Bordello then jumpstarted the party with their manic, over-the-top stage histrionics and punk-infused Eastern European folk music (imagine if The Pogues hailed from Bulgaria instead of Dublin & London and you might get an idea of what these guys sound like). Mixing guitars, violin and accordion with the fevered chanting from Ukrainian-born frontman Eugene Hutz, Gogol Bordello's volatile musical Molotov cocktail seemed to perfectly satiate the enthusiastic sun-drenched crowd.

While Atlanta-chanteuse Cat Power (aka Chan Marshall) and her four-piece band were one of the highly-anticipated middle-tier acts of Day One, they never fully translated the subtle power from many of her records. Marshall's voice, while smoky and sultry, seemed to lack depth for this particular performance and the band's arrangements did little to help to give true soul to many of these soul-inspired numbers. Directly following her set just north on the Bud Light stage The Raconteurs (the Detroit supergroup of Jack White, Brendan Benson and The Greenhornes' Patrick Keeler and Jack Lawrence) then injected a much-needed sense of urgency into the fest with an explosive set of pop-laden songs locked in a garage-rock half-nelson. White, clad in tight black t-shirt and trousers along with a jet-black mop of hair and chop sideburns,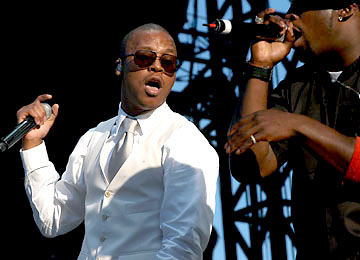 looked more fit than his past couple of tours with The White Stripes, and his playful stage interplay with guitarist/vocalist Benson was extremely entertaining as the band pounding out songs from their two full-length records Broken Boy Soldiers and Consolers of the Lonely.

Realizing that no band would want to compete playing against Radiohead on a different stage, fest organizers were wise in not scheduling any other acts during the first night's final performance. Radiohead last played in this park for their 2001 headlining show, and while the all-stars-in-alignment magic of that show could never be recreated, they managed to enthrall the massive crowd of 75,000 that migrated to the south end of park just before 8:00 pm.

Their show weighed heavily on their latest and (nearly) greatest album In Rainbows (ten songs in all out of twenty-four total, including the opening "15 Step," "Reckoner" and "House of Cards," among others). They also included many favorites from their career such as "No Surprises," "Paranoid Android" and "Lucky" all from OK Computer, as well as "Fake Plastic Trees," "The Bends" and the perfect capper for the festival with their otherworldly rendition of "Idioteque" from their groundbreaking album Kid A. Yorke sang over the skittish electro beats and blips of the number, "Here I'm allowed everything all of the time," and with their second successful sold-out show at this massive Chicago setting, he and his band certainly deserved everything received.

On Saturday night Lupe Fiasco brought a shitload of charisma along with his soulful voice to the AT&T stage. Dressed spiffy cool in all white and filled with enough energy to light up the Chicago skyline - Lupe played it extra sexy on "Kick Push" and the sweet funkification of "Superstar." Later that evening Wilco was slated as the opposing act to Rage Against the Machine's mighty set. While not holding a candle to the number of people attending the Rage show - a still respectably large number of Wilco fans showed up to share an intimate evening with thier favorite Chicago natives. The rumors quickly fizzled that Sen. Barack Obama might introduce the band as Wilco hit their second song - "I Am Trying to Break Your Heart." A beautifully subdued number with Tweedy's muscular voice in fine form. While the whole band were dressed in loudly colored Nudie suits - the kitsch factor was long forgotten by the time the jagged guitars hit their stride on "Pot Kettle Black."

Outside of leading Wilco's sterling set, Jeff Tweedy also popped up on the Kidz stage to deliver a family friendly set of stories and songs. Rather than performing from the traditional stage, he actually set up a circular spot within the audience, which was a true treat for the little ones and their parents even if it met the adults in back couldn't quite see the star. But at least they could hear the poetic front man strumming away and delicately singing through one of the more intimate sets anyone from the Wilco family will ever play these days (if only due to ballooning audience demand).

Alternative rock innovator and festival guru Perry Farrell's star power also overtook the same stage, though he had a little help from an incredibly famous friend. Ex-Guns N' Roses guitarist turned Velvet Revolver six-string slapper Slash popped up for a hearty round of classic rock covers, ending in an unforgettable version of Jane's Addiction's 'Jane Says." Though not exactly the first two rock n' roll role models that may come to mind, both entertainers had their kids in tow and seemed to enjoy the stripped back production. In fact, this collaboration was galaxies better than their appearance in Perry's club tent, which was marred by a sound system that kept popping in and out and forced the pair to perform the aforementioned staple unplugged with the audience singing significantly louder than the un-amplified artists.

No one had any trouble hearing Saul Williams' performance, which was undoubtedly the most poorly mixed of the entire weekend thanks to ridiculously loud bass levels. Unfortunately the grating volume tainted the alternative hip-hopper's otherwise intense set that may have been supported by faithful sporting feathers in their hair to match the man on stage, but had little appeal outside his core crowd. Though having no genre similarities whatsoever, Nicole Atkins & the Sea's show just a few hours earlier was a textbook example of how a somewhat under the radar indie pop-noir princess could connect with class, even for the uninitiated.

Alternative icons Love and Rockets proved to be much more than mere remnants of goth gods Bauhaus as the trio of Daniel Ash, David J and Kevin Haskins were in remarkably fine form. Of course, their tightness should come as no surprise following Bauhaus' recent reunion tour and subsequent album, plus the players seemed right at home opening for Nine Inch Nails once again. And as always, Trent Reznor-led headliners pummeled with unmistakable electronic industrialization that was backed by an equally electrifying visual spectacle. A series of LCD screens lit up the Windy City sky as smoke poured through the park to swirl up a brooding atmosphere behind the group's latest CD The Slip, plus classics like the eternally enduring 'Closer." No matter what the era, NIN was able to couch angst-fueled emotions within entertaining mechanisms that aptly capped off Lollapalooza's alternative spirit of past and present.