Story by Tony Bonyata & Andy Argyrakis
Photos by Billy Sparks, Rob Grabowski & Phil Bonyata

Despite a lagging economy, rain, heat, humidty and a less-than-stellar lineup, this year's Lollapalooza music festival still managed to draw nearly a quarter-million music fans to Chicago's Grant Park last weekend and prove itself to be the reigning king of music fests in the nation. Expectations were high for Seattle's folk ensemble Fleet Foxes, but both the rain and slow, uneven start of their show, caused the soaked audience's interest to wane. By mid-show, however, the band pulled out some of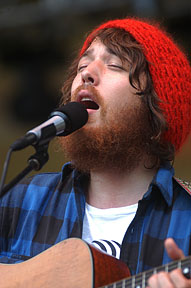 their harmonial show stoppers from their 2008 self-titled debut and Sun Giant EP, such as "Ragged Wood," "Mykonos" "Your Protector" and the beautiful "Blue Ridge Mountains" and locked into a welcome bliss, which brought the constant showers to a gent mist by the end of their set.

While The Decemberists eschewed their most familiar material and hits in favor of performing their latest album The Hazards of Love in its entirety, it paid off in a big way. For many fans who may not have been enamored at first by the album, they were certainly entranced by the tight musicianship (augmented by the incomparable Shara Worden - aka My Brightest Diamond - on guitar, keys and vocals), clean and tasteful stage décor, and epic songs laced with fanciful 1970s prog-rock flourishes and heavy metal thunder.

Of Montreal brought out all the stops with both a set of sugar-laced electro-disco-glam rock and whacked-out feather-plumed costumes that would've made Roxy Music (circa '73) look like a bunch of CPAs. Led by the charismatic Kevin Barnes, stately clad in a monochromatic beige prince outfit straight out of a children's educational video, the band delivered the feel-good electro-pop songs "Heimdalsgate Like a Promethean Curse," "Bunny Ain't No Kind Of Rider" and "A Sentence of Sorts in Kongsvinger" while also offering up the highlight of their set - a high-energy, spot-on version of David Bowie's "Moonage Daydream" where urban/alternative singer Janelle Monáe joined in with the free-for-all mayhem.

Closing the first night on the south end of the festival was the English band Depeche Mode, who made their impact in the '80s with their own brand of dark electronic pop. While many youths crowded the massive field to see what the fuss was about, it turned out to be more of a pleasing nostalgia act for many in the crowd old enough to relive the band's glory days. Dated '80s styled videos flashed on the large screens flanking the stage, and while much of the setlist was also sealed in the amber of a by-gone era, it didn't matter to the dancing faithful when hits such as "Enjoy The Silence,"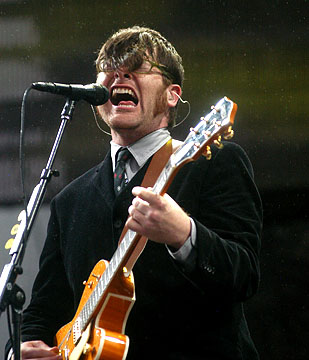 "A Question of Time" and the closing "Personal Jesus" were expertly performed. While certainly not of the caliber of most headliners of this fest, their performance was nonetheless a guilty pleasure for many.

"This is a night Yeah Yeah Yeahs will never forgot," said a stunned Karen O at the thunderous reaction to her group's headlining set. "We weren't even supposed to be here...We would never expect to fill the shoes of the fucking Beastie Boys." Though Yeah Yeah Yeahs' punk-centered dance grooves have little in common with the Boys' rap n' roll explosions, both acts can command the crowd, with Karen O easily becoming this generation's Siouxie Sioux. Of course, it was impossible to replace the ill-fallen act that was originally booked, but Yeah Yeah Yeahs certainly rose to the occasion and quite possibly paved the way for a legitimate top spot next year.

With a direct support slot to Tool, it's safe to say Chicago's Rise Against is moving up in the world. The politically charged punkers may be local, but commanded the stage like stars in full-fledged arrival mode, delivering with muscular, fist-pumping anthems, alongside an entertaining stage presence that saw all the players (sans the beat keeper) switching positions every few seconds. As tens of thousands pumped their fists mightily with most beats, one can't wonder why these fellas aren't bigger than Fall Out Boy.

Though Saturday afternoon may have started with the less-than-outrageous, but still occasionally difficult-to-pigeonhole Gomez, the tone quickly shifted from alternative to all-out odd. After those veteran indie rockers unfurled an alt-country-tipped brand of jam-leaning roots music, Coheed And Cambria soon strutted into town with the amplifiers cranked all the way to eleven. Bordering somewhere between a progressive rock/metal revival and self-parody, the guitar licks and vocal shrieks were so ferocious they could've easily scared the most fearsome Neanderthal, which seemed to be the point of front man Claudio Sanchez's haircut.

Shortly thereafter came the either love 'em or love to hate 'em Animal Collective, elder statesmen of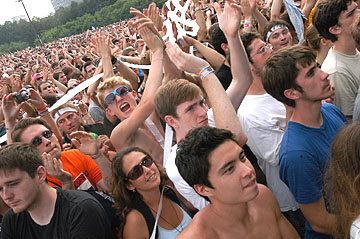 sorts who continue in a bizarre and arguably unneeded blur of noise rock and freak folk, as it's often been described. With vocal cackles and programmed dings galore, the band was best in small doses and often times too cerebral for anyone outside the hipster elitist pool.

Sunday's heat and humidity did little to dampen the spirits of the teeming masses who came out see both icons and hot buzz bands. Neko Case's performance marked the final show of her recent tour in support of her latest effort Middle Cyclone, and while there may have some that wondered if her brand of soulful Americana music could translate well to the masses there was little worry as she and her band belted out great versions of newer tunes such as "I'm An Animal," "People Got a Lotta Nerve" and "This Tornado Loves You," as well as the well-oiled favorites "Deep Red Bells" and the haunting "Maybe Sparrow." With her long, wild thicket of red hair and warm air of good-natured confidence, Neko projected her angelic voice towards the heavens, but somehow it sounded as if that's exactly where it was emanating from. Heavenly, indeed.

One of the most anticipated shows of the entire weekend from rock & roll icon Lou Reed also turned out to be one of the fest's biggest disappointments. Lou has done a number of offbeat projects over the years (Songs For Drella and Magic and Loss, which both dealt with death, The Raven, which was Reed's interpretation of Edgar Allen Poe's work, and more recently, his stage reworking of his often misunderstood 1973 Berlin album). While pouring much of his focus and efforts into each of these projects, this was the perfect opportunity - with no new album or tour to promote - to give an encapsulated overview of his greatest works for both hardcore fans and younger curiosity seekers. Instead, without any interaction with his audience (aside from his apparent disgust towards crowd, band members and crew alike), he performed only eight songs in his hour set, with only four of those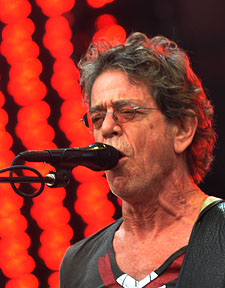 known to most (The V.U.'s "Sweet Jane" and "Waiting For The Man," as well as "Walk on the Wild Side" and "Dirty Blvd," the latter from his 1990 New York album). Even on these better known tunes, however, his undeniably tight band delivered long-winded instrumental intros and outros that left much of the audience nonplused. Worse though, was the fact that Reed had to read his lyrics for every song from a teleprompter on his computer which was downright embarrassing - considering that most in the audience could recite "Waiting For The Man" backwards. And instead of squeezing in a treasure trove of immortal songs from both The Velvets and his solo career, he instead delivered overwrought, little known obscurities such as "Waves of Fear," "Mad" and "Paranoia Key of E" that were smothered in both a sonic cacophony of guitar feedback (which actually worked) and a squonking, often annoying saxophone - circa '75 (which unfortunately didn't). Despite his legendary status, Reed left most of his audience scratching their heads in disbelief over this major mood-kill of a set.

With Reed's set ending late, it put the indie rock ensemble Band of Horses behind schedule on the adjacent Playstation stage. While they delivered a spirited set for an enthusiastic crowd, they made the fatal error of not ending it immediately when headliners Jane's Addiction (led by Lollapalooza founder Perry Farrell) began theirs; thus causing an indecipherable bleed of the two band's music on the north end of the fest. It was a tragic shame too as Jane's original foursome (guitarist Dave Navarro, bassist Eric Avery and drummer extraordinaire Stephen Perkins, along with Farrell on vocals) opened with the great tracks "Up The Beach" (complete with a circling helicopter above providing additional spotlighting) and "Mountain Song." Thankfully, Band of Horses eventually left the stage, which helped put the focus on the rest of Janes' fantastic live readings of favorites like "Ocean Size" "Ted, Just Admit It" and "Been Caught Stealing." It was a fitting ending to yet another stellar year for this immensely popular music festival.

On a related note - Perry Farrell brought our good friend and photographer Barry Brecheisen and his girlfriend, Lauren, onstage after Jane's performed their signature song "Jane Says" (with Aerosmith's Joe Perry on guitar, no less). Barry professed his love, knelt down and proposed to her in front of thousands. Lauren accepted. High-fives, Bare!