Review & Photos by Mary Andrews

Country Thunder (CT) Arizona had one of the best talent lineups in the last couple of years. Names like Tim McGraw, Chris Stapleton, Brett Eldridge, Marty Stuart, Dierks Bentley, Trace Adkins and Brothers Osborne brought fans out in droves. There was a host of newcomer acts whose talent was remarkable. The mainstage had 22 different acts performing. There seemed to be something for everyone to enjoy, a lot of country and quite a bit of rock and roll.

There were 140,000 attendees over the four days. That averages about 35,000 per day. Chris Stapleton most likely drew the biggest crowd. He brought his repertoire of drinking tunes including his ever-popular "Tennessee Whiskey." Stapleton doesn't wander from his position in front of the microphone located mid-stage. Fans don't seem to care as they provided the chorus to his best-known tunes. Whether the song is "Nobody to Blame," "Midnight Train to Memphis," or "Outlaw State of Mind," Stapleton's delivery is brilliant.

This was Stapleton's first Country Thunder performance ever. He has two more appearances at other Country Thunder locations this year. Acts like Stapleton are the reason that Country Thunder is Arizona's most successful festival.

Marty Stuart and his band, the Fabulous Superlatives, represented traditional country music. Stuart may be the last of the country pioneers performing these days. Stuart and the band were dressed in flashy country garb and accessorized to the hilt. Stuart did not hide that wonderful head of hair with a hat that was very different from the other headliners except Eldridge.

Stuart got his start with bluegrass star, Lester Flatts, in his teens and later toured in Johnny Cash's band. Not a bad start for a master of rockabilly, honky-tonk, and bluegrass music. What was most enjoyable about the set was that Stuart and the band, particularly Cousin Kenny, were having a blast entertaining the crowd. And that fun was infectious.

Tim McGraw drew the second largest crowd at the festival on the second night of CT. The intro to the set was Queen's song "We Will Rock You" and rocking the fans was just what McGraw did. McGraw appeared on stage with his typical swagger wearing a brown leather coat that didn't take him long to shed. The first song of the set was "Truck Yeah." That set the mood for the whole set.

The highlight of the set was when he brought out Clay Walker for a duet with "I Like It, I Love It." McGraw remarked "Boy what a singer" about Walker who preceded him that night. Walker performed songs like "Indian Outlaw," "What's It to You," and "Live Until I Die." Many of his biggest hits were covered.

Brothers Osborne created a set with several big moments on Saturday night. Bothers John and TJ Osborne each have a unique talent that they bring to the table. John Osborne is a guitar master who easily plays amazing blues slide, rock, and jazz improvisation guitar. Throw in some mandolin for good measure and you've got guitar shredding for the gods.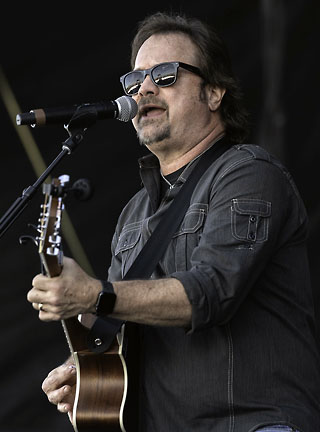 TJ Osborne on the other hand provides a baritone voice that thrills fans. He is the clean and crisp looking spokesman for the band. His smooth song style is often compared to Merle Haggard. The band's set offered everything from traditional country to rock.

The most memorable moment of the night happened when Brothers Osborne joined Dierks Bentley during the first song of Bentley's set to perform their collaboration song, "Burning Man." Vocals were shared between Bentley and TJ, while John provided a great guitar solo. Both artists just made an appearance at the American Country Music Awards to perform and to collect awards for their single "Burning Man."

Phoenix native, Bentley has made several Country Thunder appearances over the years. He addressed the crowd with "I don't want to talk too much," he said. "I know you've been drinkin' a little bit, and if I start talking I might not stop because we're here in my home state and I'm so thrilled to be here. I'm trying to run this just like a regular show but it's not a regular show. We're in Arizona down here." He recently finished a headlining tour in support of "The Mountain," which became his fourth consecutive album release to top the Billboard country charts. Brothers Osbourne were his opening act for the tour. Nine albums into his career, Bentley is still shot-gunning beers while demanding to know, "Am I the only one who wants to have fun tonight?"

Brett Eldridge was the headliner the first night of CT and he came out with a bang as he sprinted down the long runway, slapping as many fans' hands as he could reach. Eldridge is an animated, engaging performer who kept the momentum high as he blended party songs and a cover of Queen's chart-topping rockabilly classic "Crazy Little Thing Called Love" with understated ballads. "Raymond" was especially effective as a solo acoustic performance.

Trace Adkins was one of the elder, traditional country performers on the first night. Adkins set was much more low key than Eldridge's set, but just as powerful. The set began with his first chart-topping country hit, "(This Ain't) No Thinkin' Thing," in that distinctive, deep voice of his. His voice is probably the deepest baritone in country music. Shrewdly, he uses that baritone sparingly during the set not to wear out its welcome. Every Adkins hit would not fit in a 90 minutes set. Adkins did make his way through many of his most enduring songs, from the chart-topping "Ladies Love Country Boys" and "You're Gonna Miss This" to "Songs About Me" and "Just Fishin'" before finishing the set with "Honky Tonk Badonkadonk."

There were many very talented up-and-comers starting the day this year. CT has created careers for young artists. Topping the list is Canadian band, The Hunter Brothers, whose harmonies were absolutely thrilling. The guys took time off from working on their farm to deliver a tour de force performance at CT. The band is well known in their homeland of Canada. From the way they performed here, they will be well known in the States very soon.

Continuing with the Canadian artists, it would be remiss to not include High Valley. When High Valley played the festival two years ago, brother Curtis and his wife were having a baby and he couldn't miss it. They named her Country Thunder Arizona. They had a playful rapport during the set.

They covered John Michael Montgomery's "Be My Baby Tonight" and Alan Jackson's "Chattahoochie." They grew up in a little Mennonite town, where there was no radio or TV but "sure had a heck of a lot of bluegrass music." The set also included a crowd-pleasing medley of "I Saw the Light," "I'll Fly Away" and a bluegrass reinvention of Walk the Moon's "Shut Up and Dance."

The only female who performed on the main stage was Abby Anderson. Don't think that didn't get noticed by just about everyone. Anderson has a bubbly personality that exudes in her stage performance. She is very comfortable on stage since she has been singing since she was five years old. She loves to perform and it shows. She has a new single record just released called "Good Lord." An added note, her band sports a female drummer who kills it as well.

Craig Campbell gave a raucous performance of his hits. Campbell seems to be the bridge between traditional country and new country. Campbell literally comes to life as soon as he steps on stage. His set included his hit singles "Family Man," "Outta My Head" and "Outskirts of Heaven." And he was a big hit with a boozy singalong that felt it was made especially for Country Thunder, "Mas Tequila."

Brandon Lay and his band are another act that blends pop with country music. Highlights from his set ranged from a cover of George Strait's "Check Yes or No" to "Speakers, Bleachers, and Preachers," "When You Start Young" and a medley of "Life in the Fast Lane," "Walk This Way," "Back in Black," "Tennessee River" and "It's Been a Great Afternoon."

The Cole Trains had the distinction of opening the entire festival on Thursday. They recently released an album that they recorded in Dave Grohl's recording studio called, Lucky Stars. Cody Canada was the producer. Many of the songs in the set were from the new album. The rock/country band invited some of their family during their set to perform.

Harry Luge is an ever-present performer at CT and for good reason. He is an amazing performer. This was the 21st year as a performer at CT. He also has the distinction of performing the most sets of the weekend with his performances divided between the main stage and the smaller stage across the campgrounds.

Highlights of Luge's set included "Ain't Your Fault," "If You Don't Like Texas," "Drunk in My Drink," "Something Real" and "Rattlesnake Road."

Austin Burke provided one of the most memorable moment of the weekend when he was asked to join Dierks Bentley on stage for a duet on "Come a Little Closer." During the song, Burke got down on one knee and proposed to his girlfriend. Luckily she said yes.

Phoenix native, Burke had given a fun set earlier in the day. The singer/songwriter had moved to Nashville to pursue his career in music at he age of 19.

There was much more that happened at CT. The all of the talent was enormous. The four-day festival was over before we knew it and everyone was already planning for next year's Festival!