Story and Photos by Andy Argyrakis & Mike Kane

Ten years is a undisputed milestone for any major festival, though in the case of the Voodoo Music Experience, it's particularly poignant considering Hurricane Katrina almost shut the event's doors (and to the Crescent City in general). Not only has the event bounced back stronger than before, but it continues to give Lollapalooza and Bonnaroo a run for its money, packing in powerful headliners and an undercard with just as much artistic innovation as geographic diversity.

Triple threat on top:

Considering Stone Temple Pilots' banner year thus far, it was only fitting to have the newly reunited grunge rockers top Friday night's festivities with Scott Weiland leading the pack just as he did prior to the band's early millennial dissolution. Even with the time apart (for the front man to indulge with Slash in Velvet Revolver), the guys haven't missed a single step, instead growing all that much tighter thanks to an extensive round of touring.

Without a new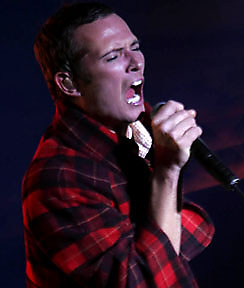 disc to tout, the set list was comprised mainly of '90s hits and treasured album cuts, including searing renditions of "Big Empty," "Vasoline," "Interstate Love Song" and "Trippin' on a Hole in a Paper Heart." It's hard to tell if Weiland's completely clean from substance abuse problems these days (speech in between songs was groggy and forced), but he once again commanded the stage like a caged prisoner just released into the wild. Given the gloriously gritty performance packed into ninety-minutes, hopefully STP will hit the studio once again and re-emerge with an application of its timeless alt-rock origins to today's temperatures.

Nine Inch Nails took charge of Saturday's spectacle and also proved to be red hot from endless time on the touring trails (that also included a co-headlining slot at Lollapalooza). Trent Reznor and his cast of rotating players seemed particularly passionate with the New Orleans audience, if only for the fact the industrial icons saved the show in 2005 performing for free as storm refuges returned to their ravaged houses.

But this time through, the mood was nothing but celebratory, or at least as pleasantly excited as a predominately goth audience can get thanks to pummeling renditions of "Discipline," "March of the Pigs," "The Frail" and "Gave Up." Though critics haven't exactly been doing cartwheels over the band's latest studio CD The Slip, the project was a completely different electricity-doused encounter on stage (at times even more dance derived than before), accompanied by Reznor's menacing charisma and several LCD screens that flickered with static and other mood enhancing images.

Sunday may have been softer in comparison as the Big Easy felt a lot like Athens, Georgia in the early '80s, but less volume didn't come at the expense of an equally engaging performance from R.E.M. Despite going overkill on election references (an important topic, but one that could easily damper a festivalgoers' ability to obtain worldly escapism) the veteran jangle poppers added some extra punches to catalogue cuts like "What's the Frequency Kenneth?" and "Electrolite," likely brought on by the more aggressive nature of its current collection Accelerate.

Never ones to play a predictable set list, Michael Stipe and company also addressed the less regular "Houston" and "West of the Fields" (both linked in part to this particular performance city) much to the joy of die-hards, though they also inserted plenty of hits. "The One I Love" and "It's the End of the World As We Know It (And I Feel Fine)" were perfect for the massive setting, while the current "Living Well Is the Best Revenge" and "Man-Sized Wreath" were testaments to the band's endurance, even if it's been making music longer than most of the attendees have been alive.

Grooves approved:

Eclecticism was also a key to the success of this "Tenth Ritual" with TV on the Radio and Thievery Corporation (belly dancer and all) interjecting ingenious rhythmic impulses into the eclectic landscape, both of which are justifiably climbing the ladder to appear much higher up in the bill than previous bookings. Soulful hip-hop Lupe Fiasco would've made his mentor Kanye West proud delivering a high octane set of smashes (like "Kick, Push" and "Hip Hop Saved My Life"), decked out in an ultra-fly shades, though avoiding his typical suit attire due to the blazing sun. For alternative country connoisseurs, Rhett Miller led the Old '97s in all its saddle blazing glory, while Reverend Horton Heat scorched with its signature blend of punk and rockabilly.

Thanks but no thanks:

Though the lowlights were somewhat scarce, it's absolutely perplexing why Panic At the Disco is still so popular to the point of appearing just prior to R.E.M. Outside of its bland pop/punk from the past having zero pizzazz, newer material focusing in a more '60s inspired rock n' roll direction appears like a calculated attempt to gain credibility and comes across as derivative in the process. Dashboard Confessional may have dipped a bit in visibility, but the emo masses still feel compelled to sing-a-long to its high school-oriented heartbreakers as front man Chris Carrabba whines all the way to the bank.

Progressive rockers The Mars Volta were just as chaotic as ever, making minimal rhyme and reason out of a noise-infused set of screaming and instrumental cacophony that make members' days in At the Drive-In all the more missed. Neo-soul siren Erykah Badu also struck out, not just because of a failed attempted to copy Chaka Khan's haircut, but due to indulgent ramblings, unnecessary political and social babblings, plus off key phrasing on occasion.

Local heroes:

Several of New Orleans' usual suspects were on display to demonstrate the rich culture of blues, gospel and jazz, along with a handful of locals that have incurred a more national following as of late. Marc Broussard may often land in the browser bins under pop/rock, but he's grown incredibly soulful with experience and has allowed the nearby Memphis scene to rub off on the new album Keep Coming Back. Of course, partying was Cowboy Mouth's main priority, which might not be making any ambitious musical statements these days, but fully embodied the spirit of revelry and celebration. Even sassier (and much more tasteful) was the Soul Rebels Brass Band, who helped bring this generally favorable undertaking full circle, which coupled with many of the key acts above, is sure to signal Voodoo Music Experience will not only survive, but thrive for at least another ten years.