Story by Tony Bonyata
Photos by Rob Grabowski, Phil Bonyata & Pete Schoen

Celebrating its 20th anniversary, and seventh year in its perennial location on Chicago's magnificent lakefront, this years lineup for Lollapalooza may not have been the strongest in the music festival's history, but over the course of its three-day residency there were still enough quality acts - both renown and up-and-coming - to appeal to the ideals and tastes of the 'alternative nation' that the festival helped spawn two decades ago.

This was apparent as all three-days were sold-out, with over 270,000 in attendance throughout the extended weekend. Luckily over the last couple of years festival organizers have expanded the grounds west of Columbus Drive which has made the mile-plus trek from the north and south main stages much easier to navigate then in the past. And while there were many interesting acts on the smaller stages in-between, it was the headlining acts on these two main stages, such as Eminem, Coldplay, Muse and Foo Fighters,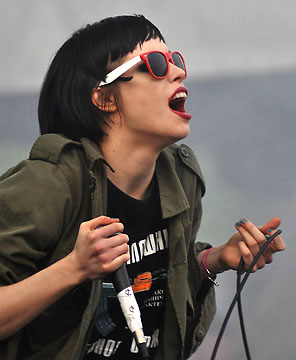 that polarized the collective masses at the same time to either the north or south sides of the park. So having the added thoroughfare of Columbus Drive made the flow much more manageable throughout the park, even with this years increase in attendance.

While it's impossible to see all of the acts on any given day, one of the beautiful things about large festivals such as this is that you can catch portions of various shows throughout the day - either grazing on just a bit of a performance or hunkering down for the whole enchilada before moving onto the next. Grace Potter & The Nocturnals' 2:30pm time slot on Friday pulled in a healthy crowd, and with the band's mix of roots, country and rock they kept most of them in check for the duration of their hour-long set. In actuality, though, it was the lovely Grace Potter's commanding stage presence and powerful voice that won over the crowd (well, that and her uber-short dress which pretty much let the sun shine wherever it damn well pleased on her). With a tornado-like propulsion reminiscent of Tina Turner in her prime, Potter, armed with a flying-V guitar and then switching over to keys, stormed through numbers such as "Ah Mary," "Only Love," "Hot Summer Night" and "Stop The Bus," locking in perfectly with her bandmates and helping to raise the already heated temperature up a few degrees.

Following not long after, a little-known Mexican garage-punk trio known as Le Butcherettes ripped through one of the most impressive sets of the day. Led by the charismatic vocalist and guitarist Teri Gender Bender, this feisty frontgirl snarled, crawled, kicked and spat her way through their explosively dynamic punk-fueled set; cooing like PJ Harvey at times, and howling & deep-throating the mic like Yeah Yeah Yeahs' Karen O at others. While Teri's bloodied smock seemed a bit hokey, her larger-than-life onstage personality more than made up for it. Sure, it's the big name acts that draw the majority of the crowds into fests like this, but it's also the newer surprise acts such as Le Butcherettes, with their spastic, sloppy and fun performance incarnating the likes of Iggy Pop and, especially, Alice Cooper's weird and creeped-out early '70s live sets, that injects a youthful, wide-eyed sense of optimism and even rebellion into the fest. After all, it is rock & roll we're talking about here, folks.

More promising on record than on stage - at least for this performance - Chicago's own Smith Westerns delivered their updated indie take on T. Rex-infused '70s glam rock, but it ultimately came off a bit more shoe-gazey and sleepy than the glammed-up cock-rock turned hazy-dream-pop they encapsulate so well on their most recent full-length Dye It Blonde.

The Kills brought back a sense of danger into the afternoon as the duo of vocalist Alison Mosshart (also frontgal from Jack White's 'other' band Dead Weather) and guitarist/vocalist Jamie Hince, along with their omni-present drum machine, ran through decadent and dark takes of "No Wow," "Future Starts Slow," "Kissy Kissy," "Heart Is A Beating Drum," the bump-and-grind of "U.R.A. Fever" and the intoxicating groove of "DNA."

Another one of the female-led bands that highlighted Day One of the fest was the Toronto-based electronica duo Crystal Castles. Fronted by the magnetic singer Alice Glass and keyboardist Ethan Kath, the twosome delivered feverish synth-laden dance faves such "Baptism," "Reckless" and "Crimewave."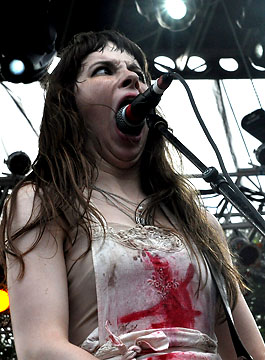 Although they didn't do their best-known hit "I'm Not In Love" (which, on record, also features The Cure's Robert Smith on lead vocals), it really wasn't missed thanks to their chaotic and electrifying performance (with Glass, clad in red sunglasses and green fatigue jacket, also flailing herself into the arms of the audience like Iggy Pop trying to escape a swarm of hornets).

Bright Eyes, led by Conor Oberst, who many consider rock's modern-day poet laureate, offered up a fantastic set of sturdy Americana-flavored rock that leaned heavily towards their later material, including the well-played opening track "Four Winds," from their 2007 album Cassadaga, "Old Soul Song (For the New World Order)," and the rocking "Jejune Stars."

Girl Talk, aka DJ Greg Gillis, created the biggest, sweat-induced dance party of the day, as thousands crammed into fest creator and Jane's Addiction leader Perry Farrell's tent to pump their fists and shake their asses to Gillis' insanely danceable and often comical musical mash-ups. Creatively, Gillis' Frankenstein-like mash-ups wear a bit thin after awhile, but thankfully nobody bothered telling this tent-full of smiling, swaying and sweat-soaked kids who made it feel like one massive and out-of-control frat party with Gillis posing as the keg and his constant flow of mixing other people's music together as the cheap swill fueling the bash.

Closing out Day One on the south end of the park, UK alt-rockers Muse, who surprisingly played this same Lollapalooza stage only four years ago, performed an impressively larger-than-life set, including fan favorites such "Uprising" "Supermassive Black Hole," "Map of the Problematique," "Stockholm Syndrome" and "Hysteria," the latter which opened with the band ripping through a Hendrix-styled version of "The Star-Spangled Banner." Muse mixes together many different sub-genres of rock (alternative, prog, metal and math-rock) into one giant arena rock spectacle (including massive video screens and state-of-the-art light show). As strong as their performance was, not to mention that they include so many great musical touchstones, I still can't put my finger on why I don't absolutely love these guys. I should, I know. But I don't. Thankfully, I don't have such reservations on Lollapalooza as an entertaining, world-class music festival. Just like a quarter-million other music fans who were there this year, I should love it... and do.